Connected application modernisation
ConnectD consulted Exlabs to modernising their technical estates and providing a more sustainable foundation for future growth. The release of modernised application enabled Connectd to scale its IT operations by 500% in the first year.
Scope: Application Modernisation
Service Type: Agile Team
Technologies: NodeJS, DDD, ReactJS, AWS, Docker, PostgreSQL
Finding a market fit for a new product is not an easy task. It requires business agility, a "can do" attitude, and outstanding technical flexibility. Once found, chances are the technical estates are not in great shape. That was the case for Connectd. 
The management found it hard to scale development operations with an application delivered under strict time constraints and limited resources. They have settled on modernising the solution and providing a more sustainable foundation for future growth. Connectd consulted Exlabs to deliver this goal.
Exlabs facilitated the process kick-off in the form of remote workshops. Management, stakeholders, and technical team representatives participated in a business rules mining exercise that helped to draw a more robust system flow. It led to the delivery of a structured product backlog, first roadmap, budget estimation, and priorities.

The strategic team was now able to set up an application base and advance both technology and system architecture strategy. With a strong foundation in place, the development phase was about to start.
The delivery happened in two-week cycles called sprints. Such an agile development approach enabled Connectd product owners to optimise goals for each sprint. Those goals were later broken down and refined by the delivery team. During the process, Exlabs has been an owner of the Software Development Life Cycle (SDLC), whereas Connectd coordinated prioritisation, product strategy, and feedback gathering.
A fully modernised application was released after ten months of active development. Redesigned marketing pages communicated the change and business strategy to customers. Modernised modules integrated well with legacy systems from day one.
Connectd decided to continue cooperation with Exlabs to deliver new features and consult roadmap feasibility in a sprint model based on a proven working relationship.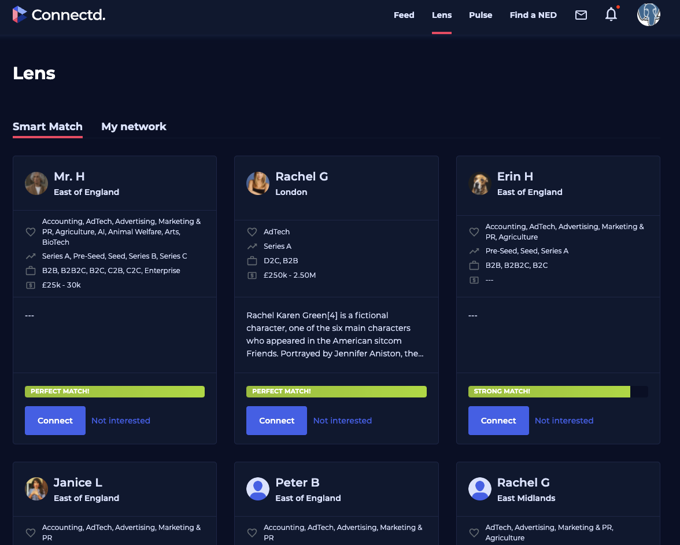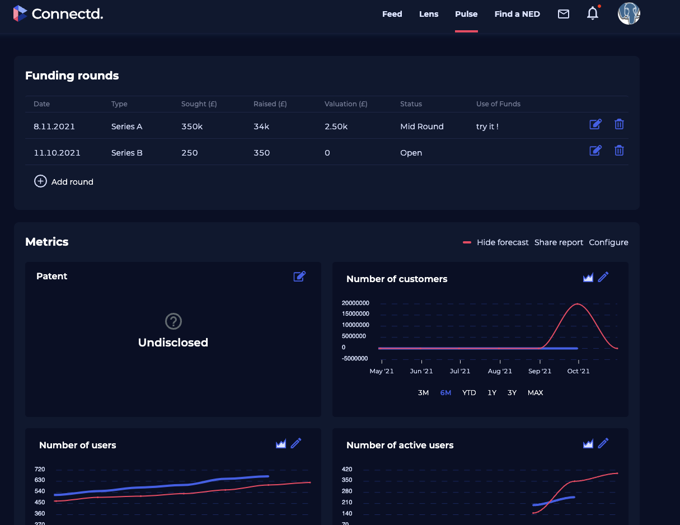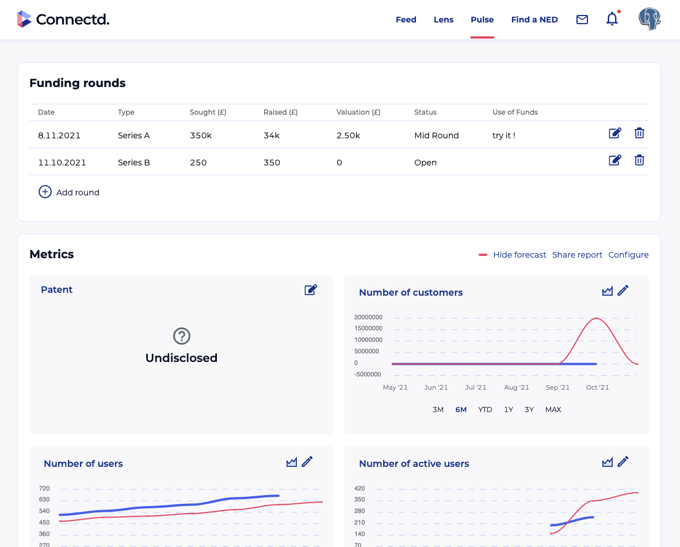 The release of modernised application enabled Connectd to scale its IT operations more effectively (by 500% in the first year), better utilise the cloud environments, and attract new customers with redesigned user journey. By relying on a trusted technical partner, the Product Owner focused more on business value and the product itself.
The business rules mining process has become a vital part of strategic planning, leading to thousands of pounds saved on unnecessary features and missed business requirements.
New system UX and solutions increased customer acquisition by 300%+ and are powering the next generation of product initiatives.

About
Connectd is an online platform directly connecting the UK's leading Founders, Investors & NAMs. With £1M in funding, they reached an MVP phase and proved application market fit. Its unique value proposition is based on a smart matching algorithm, progress reporting, and investor pipeline management. The platform has been highly reviewed and featured on Forbes, BBC, and The Fintech Times.
Industry:

Fintech

No. Of Employees:

11-50

HQ Location:

London, Great Britain